FOR IMMEDIATE RELEASE
Motivational speaker and Image Consultant hosts workshop for women to find their passion and live a life they desire.
TORONTO, ON (June 3, 2012)—Thinking big doesn't necessarily mean that you dream of being the richest, most successful person in the world. Thinking big is whatever you make it; success comes in all kinds. Finding your passion is not an easy process, but the first step is to begin the journey.
"Pauleanna is such a go getter, I love it! Her dedication and motivation inspires me. I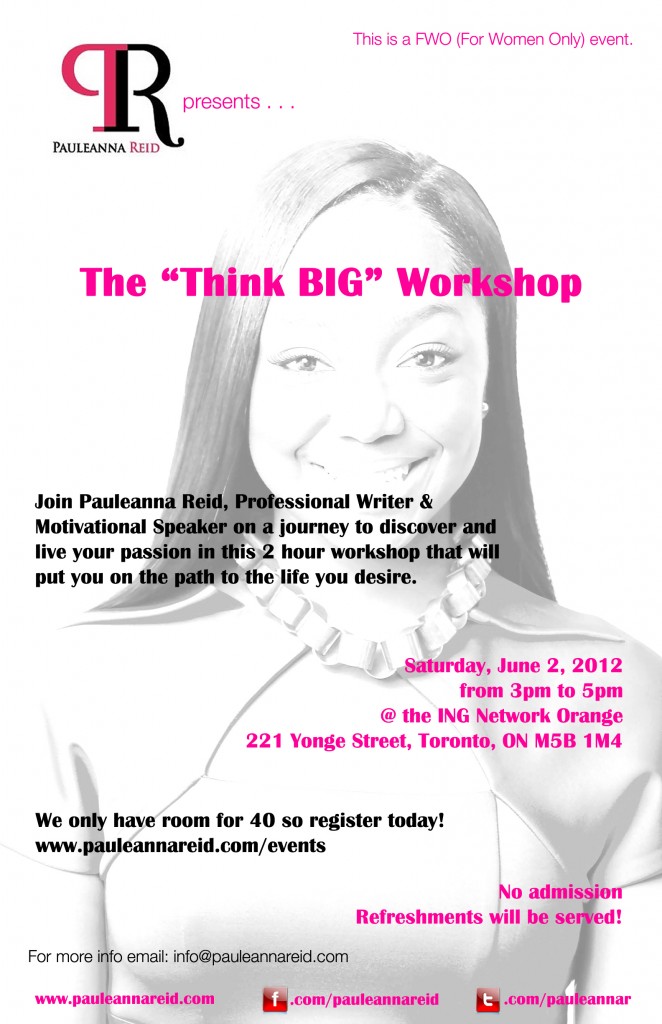 thoroughly enjoyed her last workshop and I look forward to seeing what she does next!" – Nneka Elliot, President, The Media Huddle
The event was held in June 2012 which marks mid way through the year and by this time, most people have dismissed their new year's resolutions and have slowed down momentum in pursuing dreams and goals. 'Think BIG' is a series of workshops geared towards helping women discover their passions and unlock the door to pure happiness and fulfillment by prioritizing and executing their vision.
The target market for the series of events is for women ages 18 and above.  Allowing a wide age group allows room for difference of opinions which will ignite an interactive audience. This formula will produce a progressive network of women from all parts of the Greater Toronto Area who will empower one another to reach their highest potential.
– 30 –
About Pauleanna Reid
Pauleanna Reid is a nationally published journalist, motivational speaker, celebrity fashion stylist and mentor. Through a whirlwind of inspirational lectures, round table discussions and media appearances, she positively influences, challenges and reconnects youth with their passions while providing the necessary tools to prioritize and execute. Pauleanna uses incredible wit and candour to target young women and help them shape and create the world that they have always desired. Having overcome her own personal and professional obstacles, her powerful story-telling encourages this generation to face their challenges and conquer them.
Media contact: Sandra Gabriel | 1-888-336-3763 x: 47 | [email protected]